SCUM BAG #1
By Digger / April 13, 2011 08:25 AM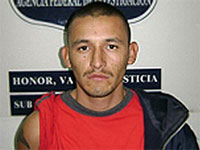 Jesus Navarro Montes
Jesus Navarro Montes, a Mexican national from Mexicali, was convicted of second-degree murder for the death of Border Patrol Agent Luis Aguilar. On January 19, 2008, Navarro was driving a Hummer transporting drugs into the United States from Mexico on I-8 west of Yuma, Arizona. Border Patrol was following him and another suspect driving a Ford truck. Navarro turned around when he realized he was being followed.
Aguilar, 32-years-old and a 6 year veteran of the Border Patrol stationed in the Yuma Sector, was setting up spike strips near the Imperial Sand Dunes Recreation Area when Navarro spotted him and intentionally ran him over and then fled to Mexico.


Agent Luis Aguilar
Navarro was captured in Mexico and extradited to the United States to stand trial. Navarro was convicted of narcotics violations in addition to the murder charge. A federal jury returned the verdict in less than two hours.
Aguilar is survived by a wife, two children and two siblings.

"Our office is gratified by the jury's verdict in this case and appreciates the service of each juror," said United States Attorney Laura E. Duffy in a Department of Justice press release. "The entire prosecution team's efforts in securing defendant Navarro-Montes' presence in the United States and the presentation of the case has been nothing short of outstanding."

Navarro faces maximum sentences of life in prison for murder and 40 years in prison on the drug charge. U.S. District Judge Michael Anello scheduled sentencing for 9 a.m. on June 27, 2011.